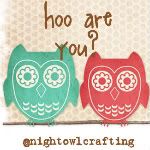 I just love answering these questions....well, most of the time, if I don't have to tell on myself!!! If you want a chance to do this yourself....head over to Leslie's blog @ Night Owl Crafting.
Can you guess why I love her site so much?!?
:)
1. If you could add one room to your house, what would it be?
I would love to have a garage added onto the side our our house with a designated laundry room in the back. But, that is just entirely wishful thinking!!!!
2. How many pillows do you sleep with at night?
Just one!!!
3. What is the best costume you've ever worn for Halloween?
I honestly can't remember. I've never dressed up as an adult. When I was young, they didn't have all the fancy costumes like they have these days....and the only thing I can remember about a costume was one year I had a "Cleopatra" mask. You've gotta remember....I'm OLD!!! :)
My best Halloween memory....even though this isn't part of the question....was when my Daddy would take us over to "the Plains", where he had grown up and take us house to house.....our bags would be filled to the brim. Every year we always had to go to a certain black lady's house who made homemade popcorn balls. They were sooooo good!
These days, we wouldn't dream of letting our kids eat anything homemade they got going door to door!!
WOW!!
I got totally off track, didn't I?!?!?
4. If you could erase one item off the face of the earth, what would it be?
Since I'm such a deep thinker....I can't answer this question with a trivial answer. I would like for all hatred to be wiped away. God loves each and every one of us....the same....so why can't we feel the same way about each other. Not liking somebody....isn't the same as not loving them!!!
Now....my "trivial" answer would have to be to get rid of all illegal drugs!!!
5. Where do you do your best thinking?
I don't work outside the home....so I'm by myself A LOT....and I sometimes think that I think....too much!!!
;)
Okay....that's that about that!!!
Looking forward to seeing how the rest of you answer these questions!!
In His Most Precious Love....and with mine!!!