....in the bad!!!
This was my post on Facebook yesterday.....
I've seen so many of you saying what you're thankful for each day. What a blessing to read your comments. Today I'm feeling overwhelmed with gratitude for God's goodness. Even in the things that we deem as bad in our finite minds....good comes from them.....because we serve a God who ALWAYS has our best interests in mind!!!
Thank you, God for loving me....even during those times when I'm anything but lovable!!!
Just one of the things I had in mind when I wrote this....was my Mom's heart attack. As bad as it hurts to see her not as strong as she was....and still struggling with some health issues....what a blessing to get to spend so much time with her. Maybe someday I can explain to y'all just why this means so much to me!!!
Ain't our God good?
Oh, yes....He most certainly is!!!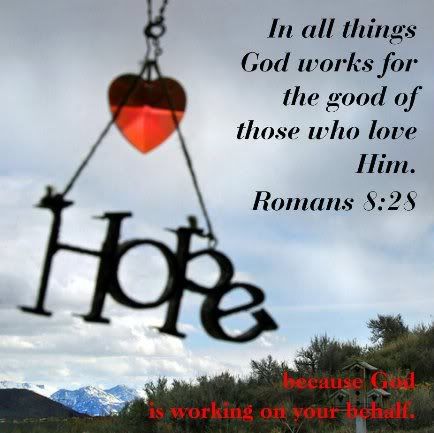 HOPE your Saturday is full of sweet blessings!!!
In HIS Most Precious Love....and with mine!!!