Have you ever prayed desperately for something and you just didn't see any movement on God's part in answering your prayers? That's the situation I felt I was in for close to a year beginning in November of 2016. Our lives kinda took a "turn for the worse" after Pappy lost his job. He was depressed and upset and I wasn't the understanding wife that I should have been because I tried to see it as God's will for us, not a curse and we were in complete disagreement as to how to handle the situation. I can distinctly remember laying in bed last December crying out to God and I felt that still, small voice speaking to me.....
"Let Me be enough."
I can't say but I'm thinking that was probably when my word for 2017 was revealed to me.....
MORE of Jesus and less.....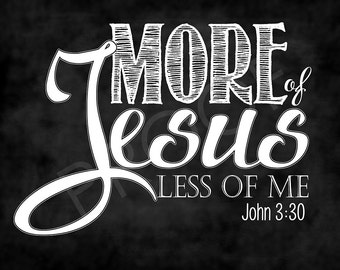 As I think back on the past year I can see in my mind's eye things that happened, or even those that didn't quite go the way I'd have preferred, but each of those setbacks helped to strengthen my faith in the Lord and ask Him to be enough and to fill me with MORE and MORE of His grace and love and mercy and kindness. Does that mean I've turned into this super nice, always forgiving, never having a bad thought, encouraging Proverbs 31 woman?
You'll in no way get a vision of me when you think about the virtuous woman that's for sure!
What has happened is that God has done a work in my heart and in those who I've been praying for. I've seen restoration beyond what I could have ever imagined, but that's exactly how our precious Lord works. He wants to WOW us and that's what He's done in the work He's done in our lives.
Just because we're Christians doesn't mean we don't have trying times. I've pictured my faith in the Lord like a door. I like to think that the door is completely shut and locked and there's no way that Satan can get through. Then something happens and I get weak and the door opens up just a small little crack and Satan gets a toehold and if I'm not careful he'll bust that door wide open and convince me of things that are in no way God's truth. It's taken close to a year full of personal prayer and Bible study and asking a few close friends whom I trust to pray to see God work only what I could describe as a miracle in our lives.
Are things perfect?
Certainly not because life isn't perfect and we are and always will be imperfect human beings. But God has restored my HOPE!
Dear Friend, if you're going through something even remotely similar to what I've described PLEASE know there's HOPE for you, too. If you think the situation you're in is beyond repair I want to encourage you to seek out Christian counsel, confide in someone you trust and know that your prayer request will be prayed over and kept private.
I've learned that when I'm praying and asking God to fix a problem or to change another person's heart and attitude.....
well, the one that often needs the repair is ME.
Let us never be so prideful that we think we're above being the one in the wrong!