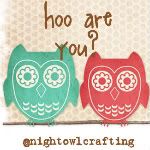 Here are this week's questions!
1. Do you type on a keyboard the correct way or do you peck like a cute little chick?
I use a keyboard the correct way....that's one of the things that I'm actually pretty good at....typing that is!!!
2. Typically how long does it take you to get ready in the morning?
Well, since I don't have anywhere to go....about 10 minutes!!! If I'm getting ready for church....I'm gonna say 35-45 minutes!!!
3. Do you prefer lip gloss or lipstick?
I prefer lipstick!!
4. Do you take clothes to the dry cleaner or wash them yourself even if they say dry clean only?
True confessions....I wash EVERYTHING....or use Dryel! I seldom take anything to the dry cleaners....but....I seldom buy anything that has to be dry cleaned!!!
5. Do you prefer Wal-Mart or Target?
Oh....that would have to be Wally World.....simply because I rarely get to go to Target!!!
Looking forward to reading "hoo" the rest of you are, too!!!
In His Most Precious Love....and with mine!!!