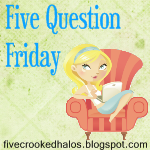 1.
If you could have any talent and turn it into an occupation, what would it be?
Well....I would love to be able to make money off my crafts!!!
I do have a little "announcement" to make about that on Monday!!!
2.
Would you rather have a house at the beach or a cabin in the woods?
Since I already live in the woods....and we have an enormous task of raking/blowing/burning leaves....I'll take the house at the beach!!!
3.
Is there any meaning or reasoning for the names you chose for your child/children?
We have one child....a daughter, Jessica Leigh. We chose Jessica because that was one name we could agree on. ;) The Leigh is actually after my GRAND-mother. Her name is Onalee....we just spelled Jess' differently.
4.
What is your guilty pleasure? (I know we've done this one before, but I'm guessing people's "guilty pleasures" change frequently. At least, mine do!)
I guess it would be "chocolate". Since I've tried to cut out sugars...my indulgence these days is a cup of "diet" Swiss Miss cocoa at night!
5.
Do you live in a house that is deep cleaned or straightened?
The answer to this one is gonna have to be "straightened". My house is very much lived in....and I'm not into deep cleaning!!! There are too many other things in life I enjoy than to spend it cleaning!!!
In His Most Precious Love....and with mine!!!