Okay, I know that's kind of an odd word to choose, but bear with me.
Sometimes on Tuesday's this little kiddo "keeps Nannie" while his siblings attend some classes.....
(he was feeding grass to his lawnmower)
One of our neighbors was sweeping up leaves and bringing them to a vacant lot across from us to dump them out. We went outside to play and this sweet boy was sitting on my lap looking at Lego horses on my phone (something he HAS to do every time he sees me or Pappy) when he said.....
"That's getting on my nerves."
Now bear in mind that he just turned two in July.
So I asked him what was getting on his nerves......
after I composed myself from busting out laughing!
He said "that lawnmower"!
It gave me such a good laugh and oh how it does my heart wonders for him to stay with me. But, his statement got me to thinking about how we let things irritate us. Pappy says he's just like me in some of his actions because I, too, don't tolerate noises very well. I've decided I have some "sensory issues".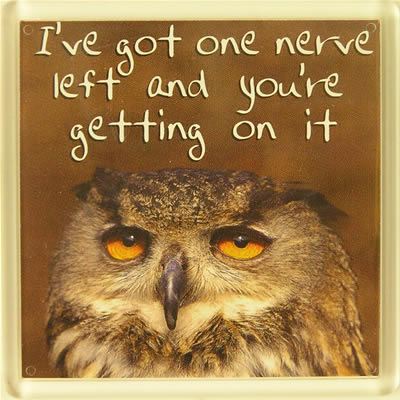 (can you even believe I found this little saying with an owlie?
That has to be a sign that it applies to me....LOL)
Is there something that just grates on your last nerve sometimes? Or, am I the only crazy lady to admit that I have "issues"?!?!??
Now, this is really funny.....
and can be applied to me!
Happy Wednesday, Everybody!!!
From some of my posts y'all have to think that I'm the most nervous, stressed-out, depressed, SAD person alive!!! I promise I'm not. I just try to be really honest about things that bother me. I truly, honestly have GOOD days and many more of those than bad ones!!! But....with that being said....y'all will never know how much your precious comments, and especially your PRAYERS mean to me. Y'all are the BESTEST!!!
don't forget about Friday Foto Friends.
Get your photo ready to link-up!!!