de·clut·ter


remove unnecessary items from (an untidy or overcrowded place)
I'm "decluttering" once again.
My Mom was never one to hang on to things because she's very simplistic. As much as I try to be that way, too, it just seems like the "stuff" takes over and gets the best of me. I've been one of those women who buys totes to store things in and then wonder what's in all those totes stacked up in the basement. Now, don't get me wrong, I'm not a hoarder.....
well, you can at least walk through my house.....
except for my craft room and that's on my list.....
but the older I'm getting the less stuff I want. I've already gone through the closet and drawers in our bedroom, which contain mostly all my stuff because Pappy's is in another room. The last couple of weeks I've tackled the kitchen and it's like a breath of fresh air to walk into the kitchen and see decluttered counter tops, or open the pantry door and be able to take something off the shelf or even open my sock drawer and see exactly what I'm looking for!
I was curious if the Bible taught us anything about decluttering and one story I found was that of the rich man who owned a farm and he had so much excess that he decided to tear down his barns and build bigger barns (buy more totes). Or what about the rich man whom Jesus tells to sell everything he owns and give the money to the poor. Would I, could I get rid of EVERYTHING, not just the things that I "think" I can do without? But I think the best lesson might come from Matthew 6:19-21.....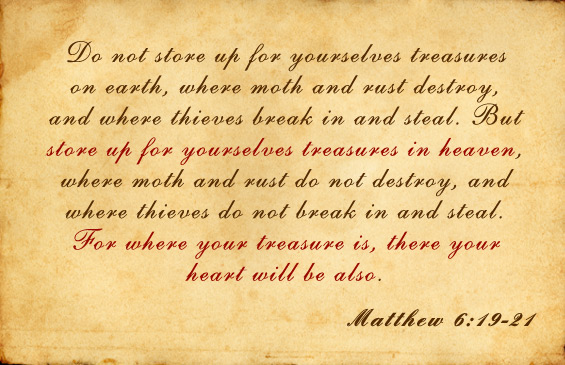 So my decluttering shouldn't be just going room to room in our house and cleaning out, throwing away and donating (which makes my
♥
happy to give to a local charity). Most importantly I have to declutter my mind and heart from those things that hinder my relationship with Jesus!